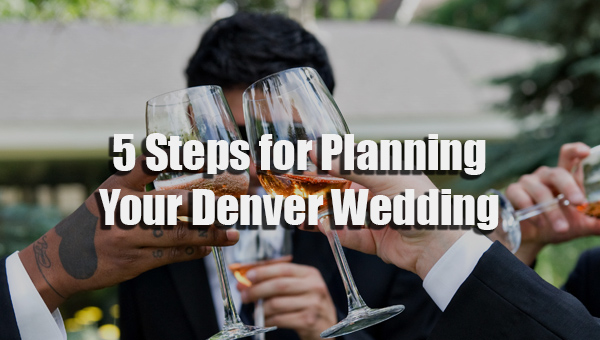 Colorado is great for so many reasons and the city of Denver for so many more. It's one of the most ideal locations to say "I do," in terms of its natural beauty and fantastic weather. In Denver, we have nearly 300 days of annual sunshine, and imagine your wedding photos with the Rocky Mountains naturally set in the background? It sounds too perfect. However, aside from knowing you want to say your vows in Denver, planning a wedding can still be stressful. So, how does one begin planning their perfect Denver wedding?
Whether you want to get married in the museum district, downtown, the art district, or uptown, the options really are endless in terms of venue. Now, you don't need to know the exact venue yet, but you want to have an idea of the general area because that will help you with the rest of your planning.
Tips for Planning a Denver Wedding
Think about some crucial details

The size of your wedding is going to play a huge factor in determining where the party is going to happen. If you have hundreds of guests, that is going to eliminate some ideas you may have previously had, but if you want to have a small and intimate wedding, that may give you some new ideas you didn't know were options. Aside from the size of the wedding, you also want to think about your budget, because although it's not the best part of the planning process, it'll make the rest of the planning a lot easier.

Visit Denver, CO

Once you've figured out some of the specifics, you want to look into potential venues. If you don't already live in Denver, you can do this online. You want to save your visit until you've determined your budget because this will save you time in looking at venues that you can afford rather than wasting time in places that don't fit your price range.

Look into the details

Once you've determined your venue and reception space, you'll want to look into local catering companies, bakeries for the cake, bands (or DJ's), photographers, and videographers. You'll want to do your best to personally get in touch with your choices so you can get to know them and open up a clear line of communication until the big day.

Don't forget the invitations

If this is a destination wedding, you'll want to get your invitations out as soon as possible because your guests will have to book flights, hotels, cars, take off work, etc. So, once the venue is chosen, send them out and watch the RSVP's pour in.

Have fun and relax

Denver is a beautiful and welcoming town that is ideal for having your wedding so enjoy it while it lasts. You want your wedding to be special so relaxing is the most important part, otherwise you'll blink and it'll be over. Take some time for yourselves and enjoy the moment.
Denver Wedding Photographer
If you're getting married in Denver and are still looking to book an experienced wedding photographer, contact us at Tony Gallagher Photography and we'll let you know about our wedding packages. Weddings are a special time so make sure you have someone there to capture every moment.