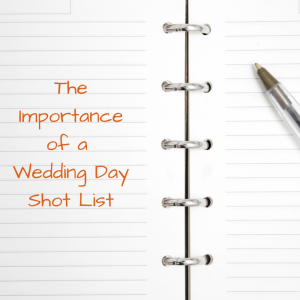 Wedding planning is comprised of so many lists…vendor lists, guest lists, and endless to do lists. But one of the most important lists that so often gets overlooked is the photographer's shot list.
Your photographer already knows the style of photography you like — you hired their team, after all. They know that you've spent countless hours curating pins for ideas as you plan your wedding. What they don't know is what specific shots or moments of your wedding day are important to you or are unique to you and your fiancee. This is why a shot list will help you communicate with your photographer the aspects of your wedding that you want to remember.
As you build your shot list, think about these things:
Who do you want in the formal photographs? Family only, wedding party, special friends?
What special moments do you have planned as part of your ceremony?
Does your wedding venue have something unusual about it that you want to include in your photos?
Are there mementos incorporated into your decor?
What story do you want your wedding album to tell?
Review your shot list to be sure that you've included everything, then take time to prioritize which shots are most important to you. That way, if you find yourself short on time for photography, you can quickly make a decision as to which shots can be omitted.
Don't get the concept of a shot list confused with delivering your photographer a bunch of links to someone else's work and expecting them to replicate those images for you. Your photographer is still responsible for executing the artistic vision of your day. However, being aware of things that are important to you will allow the photographer to ensure that they work to capture those items.
Once you have your shot list compiled, you can begin to build your wedding day timeline. It is important to do the shot list first, so that you can be sure that you have allotted enough time for photography. Let everyone who is scheduled to be in photographs know what time they are expected to arrive and where. The shot list will help keep your photographer organized and your wedding day timeline on schedule.