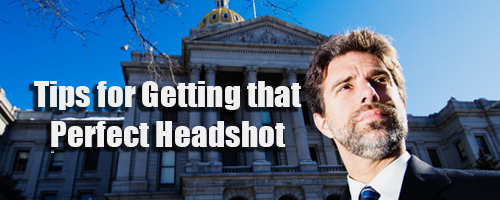 Regardless of one's profession, if you're building your own platform, headshots are the perfect marketing tool. Headshots play an important role in the marketing world because consumers want to connect with a person, not just the product, brand or cause. The right professional headshots can help with establishing your credibility, promote further engagement, and help build trust by putting a face to the name and resume.
What people don't understand about headshots is that it's not about achieving that glamour Photoshopped picture, but to capture the real, natural you – because that's who people are connecting with. When you live in an area that has a beautiful landscape such as Denver, a professional photographer will be able to either take your headshots in a studio, or they can utilize the outdoors. Whatever you do, you don't want to go to JC Penny's for a headshot, use your smartphone, or steal the best social media photo you have.
Tips for Getting that Perfect Headshot
Hire a professional.

You don't want to go with your friend who happens to have a "good" camera, instead invest in a professional photographer who takes headshots for a living. A professional is trained and knows how to achieve the ideal lighting. To find a professional headshot photographer in your area, searching for one online is easy, but make sure you take a look at their portfolio before making your final decision.

Try to avoid shooting in a studio.

Headshots that are taken in studio look just like every other headshot that's been circulating. You want to take your headshots in familiar surroundings that reflect you. In Denver, there are several locations that allow for the mountains to appear in the background while still highlighting the subject. Headshots taken in an environment that's relative to you add more personality to your photos.

Wear something that's appropriate.

You don't want to have the focal point of the headshot be your clothes, but rather your face. It's all about making a personal connection, remember? You don't want to necessarily wear something that's currently "trending," because then your photos will be outdated sooner than they need to be. Wear a more generic wardrobe choice that won't go out of style. You may even want to bring a few different outfits to change into during your shoot.

Don't be afraid of the lens.

Personal connection, remember? When you ever receive advice for meeting people and talking to others, you're always told to make eye contact. Therefore, you want to look directly into that lens because it's basically like you're meeting someone for the first time.

Don't forget you'll have to update them.

Obviously, you don't want to have a headshot that's 10 years old being the main photo on your website, in your portfolio, or on your social media accounts. So, you'll want to get your headshots retaken every few years just so you look a little more consistent. Also, you want to choose one or two main photos in terms of having a proper marketing strategy, that way you're consistent across the board.
Headshot Photographer in Denver
If you live in or near the Denver area and are interested in having headshots taken, contact Tony Gallagher Photography. With the goal of achieving your ideal headshot, we make sure to utilize the Denver landscape, giving your photos a unique look that best reflects your individual personality.