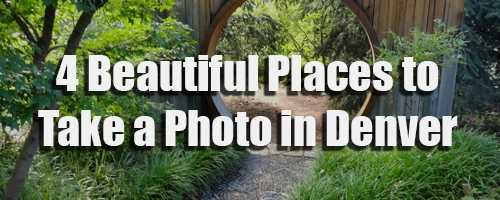 The entire state of Colorado is one of the most beautiful states in the U.S. and the city of Denver is no exception to that fact. If you're planning on taking graduation portraits, engagement photos, headshots, or family portraits, there's no need to stay inside when there are so many stunning landscapes and natural backgrounds throughout the city.
Colorado is stunning in itself, and several locations in Denver allow for the Rocky Mountains to be your backdrop. If you're looking into taking professional photos in the city of Denver, but you're not quite sure where to take the photos, here are a few of our favorite places throughout town.
4 Beautiful Places to Take a Photo in Denver
City Park

As one of the largest parks in Colorado, City Park has some truly spectacular views. If you're looking for your backdrop to say, "I'm in Colorado" for you, then City Park may be the place for your photos because the Rocky's will fall nicely in the background. The best time of day is of course during sunset when the purple and orange colors fade behind the mountains so, all your need to do is get your Colorado clad family and book your appointment.

Big Blue Bear

As a landmark in Denver, I See What You Mean (also known as The Big Blue Bear), is a great place to take a whimsical photo. If your family is known for their humor, this would be a great spot to take your family photos, or even your headshot. I mean, it's a giant 40 foot blue bear; the opportunities to get your funny side show are nearly endless.

Botanical Gardens

Taking photos in Denver's Botanical Garden is one of the most beautiful spots you can choose. Of course, you don't want to wear any clothing that's too flashy because you want a majority of the light to come from the foliage around you. That way, you won't blend in and it'll be easier to pinpoint where you are in the photograph.

Art Museum

This is one of the greatest pieces of architecture in Denver; the Denver Art Museum really is like no other building in the city, making it an ideal backdrop for your professional photos. The bold patterns were designed by Daniel Libeskind to reflect the Rocky Mountains, and if you go with a professional photographer, they'll be able to capture you as well as the construction of the building which is really something to admire.
Where to Get Professional Photos Taken?
If you live in the Denver area and are looking to have professional photos taken for yourself, the family, or for your job, contact Tony Gallagher and we'll set you up with an appointment or answer any questions you may have regarding our process compared to other professional photographers.